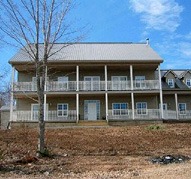 Tulloch Inn is nestled in the beautiful Cape Breton Island region of Nova Scotia, in the heart of Celtic culture. We are a southern Colonial-style, year-round inn with a 52-foot balcony and veranda overlooking beautiful Lake Ainslie, the largest freshwater lake in Nova Scotia. We are a 250-acre property with a one-kilometre lane, providing privacy from the highway. We offer a variety of activities and services surrounded by picturesque landscapes, home to a variety of wildlife including osprey, loons and the majestic eagle.
We are surrounded by beautiful scenery and attractions. It is only a 20-minute jaunt to Inverness Beach for warm ocean swimming, with antique shops along the way. Visit Inverness Town for unique shopping services. Travel 30 minutes to the beginning of the world-famous Cabot Trail, with its stunning views, hiking and biking trails, and beautiful photo opportunities. Immerse yourself in Celtic culture by participating in a local square dance or attending a traditional concert at one of the area's five live venues. There is lake and river fishing near the inn, and bird watching opportunities abound.
Our accommodations include six rooms (King-sized bed, Queen-sized bed, extra-long Single bed), all with ensuite 4-piece bath. All rooms have hardwood floors throughout and ceramic floors in bathrooms, with operable windows, air conditioning and air-exchange system. Guests can relax on our balcony, or enjoy cable television. Breakfast is included.
We are a scent-free accommodation, with non-synthetic linens and scent-free soaps. We offer special packages for weddings and extended stays. There is a small gift shop on site and a licensed dining room. Room and laundry service can be provided. We are a proud member of the Tourism Industry Association of Nova Scotia. Direct Debit, Visa and MasterCard are accepted.
Cancellation Policy: Must cancel 72 hours prior to day of arrival (for refund of a deposit or to avoid a credit card charge).