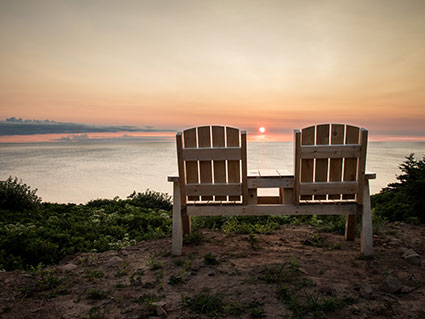 Come to live!
The odds are you have already visited us, and so now you are wondering what would it also be like to live, work and do business here in Inverness?
Inverness is a vibrant and beautiful coastal community with all of the benefits of rural living combined with fertile prospects for continued business growth, low crime rate, quality services, amenities, and programming. Inverness has become and is continuing to further develop into a viable, capable and accommodating centre. We are proud of our community and look forward to new opportunities that will help us to grow and flourish. As a service centre for the County, the Community of Inverness supports and connects residents to amenities such as quality health care, education, transit and a wide array of recreational activities for all ages and abilities. We are deeply connected to both the natural beauty that surrounds us and to those that have chosen to call our community home. But, Inverness is not just a community of dreamers it is also a community of doers.
Inverness today is likened to a phoenix rising from the coal dust. A few years back this community of approximately 1,600 people was struggling economically to overcome the loss of the past mining industry. Until the aspirations, hard work and dedication of committed community members helped to lay the groundwork necessary to attract what was to become Cabot Links Golf Resort, Canada's first true links golf experience.
In the 1980's the manicured golf greens of Cabot Links were instead home to abandoned mine shafts. A community group the Inverness Development Association (IDA) rallied behind a goal of helping to revitalize the community of Inverness. The idea of developing a golf course atop of the site had circulated, perhaps at first jokingly, but once determined feasible the effort grew. The Province of Nova Scotia partnered with the community and reclaimed the former mine land. Municipal land and private property alike were donated to the project, until the IDA owned what would be required for a course. It proved difficult though to find someone who believed in the possibility and viability of building a world class golf course, here in Inverness. But, there came a chance meeting, between Ben Cowan-Dewar (a golf travel agency owner and operator) and then Provincial Tourism Minister Rodney MacDonald at a dinner in Toronto. MacDonald and Cowan-Dewar discussed the IDA's plans and following their meeting, Cowan-Dewar visited the property. The IDA in exchange for the land secured a 15 year agreement that would have a portion of the course's profits shared with the IDA to be reinvested back into the community. It was the community dreamers, doers and risk takers that stuck with the idea and championed it. The risk, the dedication, dreams and hard work paid off and the result is a very welcome revival of sorts.
The spin offs have been fruitful and are occurring at a rapid rate. Growth, increased commercial activity, new business start ups, business expansion and increased government funding and initiatives to help accelerate, accommodate and compliment growth. Business and community morale has improved as a once vulnerable future although still young, seems filled with possibilities.