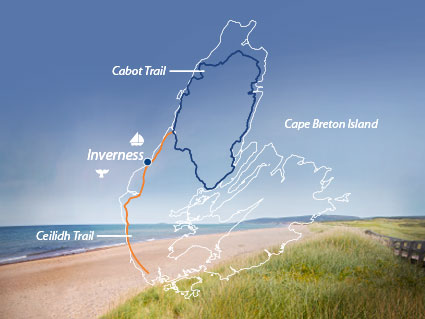 Come to play!
The Community of Inverness is a vibrant & diverse destination of inspiring beauty. Big on heart and experience there is an adventure waiting for everyone.
Its rugged coastline and rolling hills, its majestic autumn colours and the winters winds it all shapes who we are and inspires what we do. Reflected in our local music, art, culture, celebrations, dance and dining – we are at heart story tellers – of the land and the sea. The connection with nature is intimate and as such our offerings for play and adventure are built into and showcase our natural and dramatic landscape.
From cycling and hiking, to skiing and snowshoeing our local trails and boardwalk showcase scenic vistas and range in intensities. From kayaking and paddle boarding to whale watching and horseback riding our local outfitters and tour operators will help you make the most out of your adventures. From a historical perspective on the mining days of Inverness past to an Art Exhibit featuring the works of renowned local artisans our Museum and Arts Centre have you covered. From a music festival and ceilidh to a dance or special performance our community halls, pubs and festivals are sure to please. Inverness has unforgettable experiences in store for everyone.