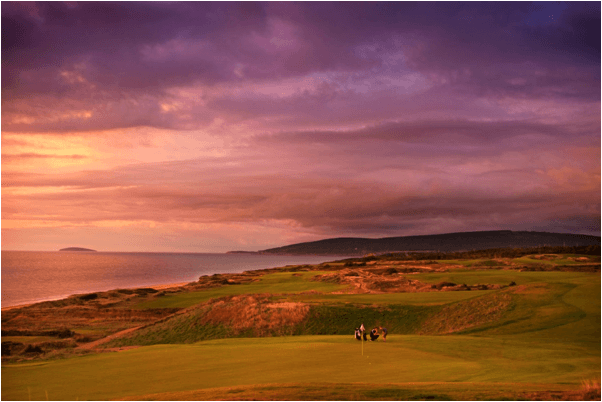 Much has been written and even more said about Canada's first true links golf course. However, to truly understand what it feels like to be transported to a time and place reminiscent of golf's beginnings, you simply must experience it for yourself. Listed on both the Golf Digest World's 100 Greatest Golf Courses (No. 42) and Golf Magazine's World Top 100 (No. 82), Cabot Links represents a dramatic departure from the typical golf excursion. From endless, rolling seaside dunes to ruggedly spectacular panoramas, Cabot Links was designed to entice and inspire you at each and every turn.
Nestled between the Atlantic Ocean and the picturesque town of Inverness, with six holes playing directly alongside the water and every hole offering an ocean view, Cabot was designed to capture the imagination of those who play it.
To see the ocean from everywhere on the links, and to play golf on the ground as well as in the air, to imagine shots and to understand that the contours of the fairways and greens invite creativity: this is golf as it was meant to be and as it has been for centuries on the classic links that represent the best the game has to offer.
Cabot is a walking-only course, a style of play that heightens the experience of the game, connecting the golfer with the landscape and inviting creativity into every shot. Of course, exceptions can be made – and carts provided – for guests with medical limitations. In addition, experienced caddies are ready to provide helpful advice on everything from shot selection to the course's various topographical nuances.
"Cabot reminds me of Cruden Bay in Scotland, or perhaps even Turnberry, the great links course on the Firth of Clyde, and in my opinion it belongs in the same rank, along with the Keiser courses in Oregon." – Charles McGrath, New York Times