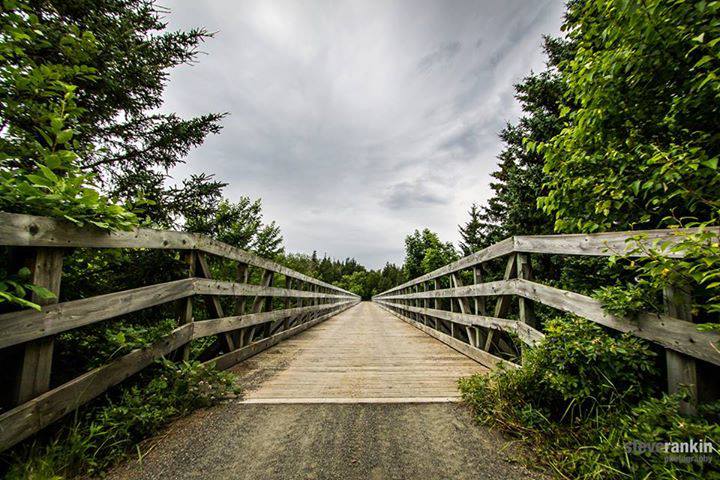 The Trans Canada Trail is the world's longest network of trails, stretching over 17,000 kilometres from the Atlantic to the Pacific to the Arctic Oceans, linking 1000 communities and all Canadians. Millions of Canadians and international visitors are using the trail to hike, cycle, ski, horseback ride, canoe and snowmobile. The Trans Canada Trail offers countless opportunities to explore Canada's diverse landscapes and rich history. The Celtic Shores Coastal Trail is a part of the Trans Canada Trail. Celtic Shores Coastal Trail is a 92 kilometre (57 mile) multi-use trail that weaves along the coast of western Cape Breton, connecting the neighbouring communities of Judique, Port Hood and Mabou to Inverness.
The Celtic Shores Coastal Trail is organized into 5 sections and they're several trailheads and access points with ample parking. The sections are as follows:
1. Ceilidh Coastal Trail – 22 kilometres (12.5 miles)
2. The Judique Flyer Trail – 19 kilometres (11.8 miles)
3. Chestico Trail – 17 kilometres (10.5 miles)
4. Mabou River Trail – 20 kilometres (12.5 miles)
5. Inverness Shean Trail – 16 kilometres (10 miles)
The Inverness Shean Trail section is 16 km long and will take you from Blackstone to the town of Inverness overlooking the harbour and beach. The trail will take you inland toward Lake Ainslie which is the largest natural freshwater lake in Nova Scotia. The Southwest Margaree River starts here, flows through the Margaree area before it empties into the Gulf of St. Lawrence at Margaree Harbour. Be sure to stop and enjoy the view from the Deepdale Trestle 1.6 kilometres (1 mile) in. The trail is filled with informational panels about the history of the area. As you cycle, walk, run, quad, ski or snowshoe along, this exceptional trail is sure to provide first-class trail experiences.