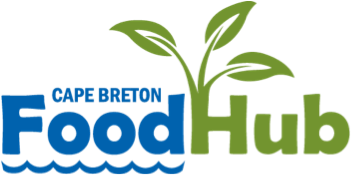 The Pan Cape Breton Food Hub Co-op makes it really easy to get the products of local producers into the hands of local consumers and chefs! They are a multi-stakeholder co-op with both producers and consumers as members. A 10-person board of directors, includes producers, consumers, restaurants, retailers, federation of agriculture and municipal representation.
When you buy or sell food through the Pan Cape Breton Food Hub Co-op, you are contributing to a more vibrant local food economy and becoming part of an island wide food community!
You can grocery shop online every weekend.
Pick from a variety of local producers (veggies, meat, seafood, baked goods, honey, herbs, ointments, and more). Pick up your order once a week at Mill Road SE.
It's a $50 yearly membership. You can buy $100's per week, one garlic bulb or skip a week if you need.
Contact the Cape Breton Food Hub for more information.